Check out Lincoln Eldridge of Safemap Australasia featuring in the new Santos "line of fire" video podcasts.
Please see the excerpt below from the The Queensland Natural Gas Exploration & Production Industry Safety Forum – known as "Safer Together".
Videos were produced by Epigroup, who partner with Safemap regularly on these projects.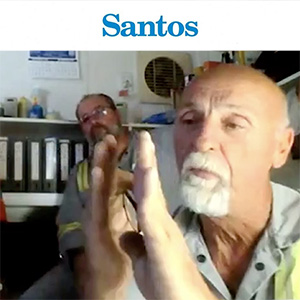 ---
Santos has recently developed a series of video podcasts to generate discussion within work teams about the causes of, and opportunities to prevent "line of fire" type injuries. In the spirit of collaboration and sharing, Santos has made these podcasts available to other member companies of Safer Together.
A simple definition of "line of fire" is being in harm's way, such as being hit, crushed or cut by something. Fatal and serious injuries can result when people are caught in the line of fire.
The series of video podcasts are designed to be run as a safety communications campaign over a period of several months – this helps to reinforce learning and embed the key concepts. Click on the links below to view each podcast:
See original Safer Together post here