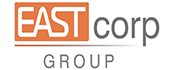 East Corp was not born — it was built. It was created on a collection of thoughts, gaps in our fields, systems and resources.
We provide engineering and technical support, and practices are driven by thought leaders, collaborators, communicators, forward-thinkers. We are a professional Engineering and Technical support driven company. Engineering, Audits, Safety Management and Training constitutes core activities of our business. Our advisory services cover Fire Management, MEP Management and EHS Management. We are evolving new advisory services as required by industry and our customers.
The team of specialist engineers, supporting each vertical, is committed to solve customer issues and provide services for each vertical. East Corp helps clients protect people and assets through solutions built on proven methodologies, research, and innovation and thought leadership. Our programs are a reflection on our industry-best talent, technical expertise, knowhow, and reach.