MEET SIDNEY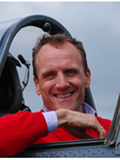 Prof Sidney Dekker is currently Professor at Griffith University in Australia, where he leads the Safety Science Innovation Lab.
He holds a PhD in Cognitive Systems Engineering from The Ohio State University, USA and has previously worked in Australia, New Zealand, the Netherlands, and England.
He was previously at Lund University in Sweden, as Professor of Human Factors and Systems Safety, before that was a Senior Fellow at Nanyang Technological University in Singapore, and Visiting Academic in the Department of Epidemiology and Preventive Medicine, Monash University in Melbourne, Australia. He also held an appointment as Professor of Community Health Science at the Faculty of Medicine, University of Manitoba, in Canada.
Sidney has gained worldwide acclaim for his groundbreaking work on human error and safety. Sidney is the bestselling author of "Ten Questions about Human Error" (2005), "The Field Guide to Understanding Human Error" (2006), "Drift into Failure (2011), "Patient Safety" (2011), "Just Culture" (2012) and his latest book "Second Victim" will be out soon.
He has recently became and airline pilot and has been flying the Boeing 737 as a part-time airline pilot. He currently lives in Brisbane, Australia, with his wife, a medical scientist, and their three children.
For more information view Detailed Sydney Dekker CV.